Learn about our Synthetic styles:
Synthetic fibers have come a long way in the wig industry. Since the hair is not human, the style is low maintenance and enables the customer to have a hair style in minutes. Although synthetics are less versatile than human hair wigs, they are considerably more convenient.
The synthetic styles we carry have three different cap constructions, explained in more detail below.
One feature many people look for in a wig is a lace front. This means the hairline at the front is made specifically to show some of the scalp underneath for a more natural look. All three cap constructions have some styles available with a lacefront.
Wefted
Advantages:
Wefted styles are the most budget friendly. For clients that like volume in the crown area, this is a good choice.
Disadvantages:
A wefted style doesn't allow you to put a definite part in the wig, due to it's all fabric cap. These styles will be warmer, especially in the summertime. Not many of these styles have a lace front.
Price Range: $165- mid $200's
<![if !vml]>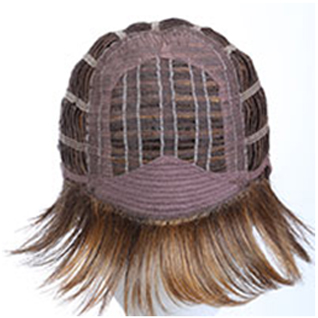 <![endif]>
Monofilament
Advantages:
These styles show a natural partition in the hair. Each fiber/hair is hand sewn so it gives the illusion of hair growing out of the top of the wig. Most of these styles have a lace front.
Disadvantages:
These styles are more expensive than wefted styles. They are our moderately priced styles.
Price Range: Low $200's- Low $400's
<![if !vml]>
<![endif]>
Hand-Tied
Advantages:
Every fiber/hair is sewn into the cap by hand throughout the entire style. Hand-tied styles have the lightest and coolest cap. Almost every hand tied style has a lace front.
Disadvantages:
Hand-tied styles call for a premium price due to the amount of labor it takes for them to be made.
Price Range: $355-$495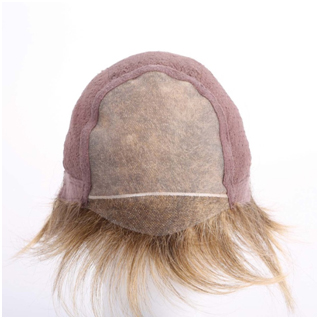 Learn about our Human Hair styles:
The biggest difference between human hair and synthetic wigs are that the human hair have to be blown dry and styled after every washing. These styles have the ability to be made into many different hair dos, so they are significantly more versatile. The human hair styles we carry are either monofilament or hand tied. Our human hair range in price from $850-$2,700.


All wig caps stay on your head better with a HAIR GRIP. In our shop we show clients the difference between wearing a grip and not wearing one and the difference is phenomenal! It keeps it in place and you don't have to worry that your wig will slip, or worse yet, fall off